Winter/Spring Break Full-Day Coding Classes
Our computer camp-styled classes are condensed courses based on semester counterparts. They're a great way for beginners to get a taste of computer science!
Monday - Friday, 9am - 3pm. Optional extended stay to 6pm.
4 Militia Dr. #15, Lexington, MA 02421
Weeklong Levels Offered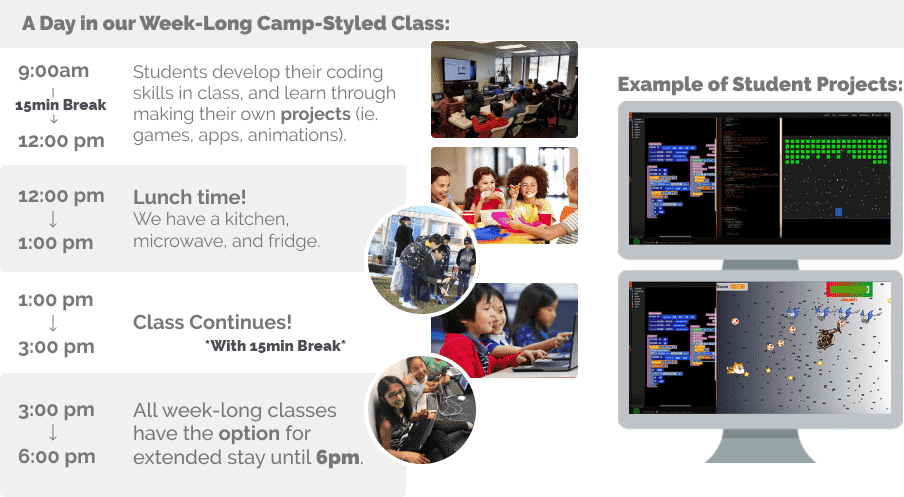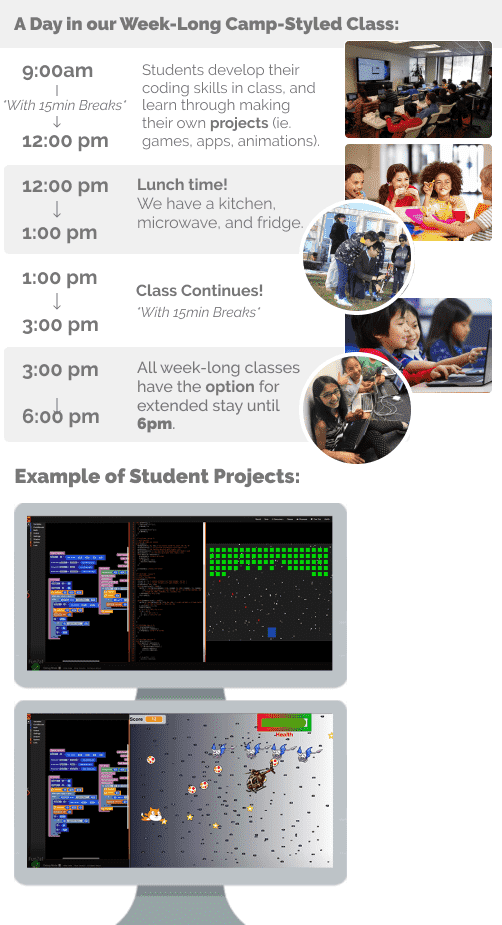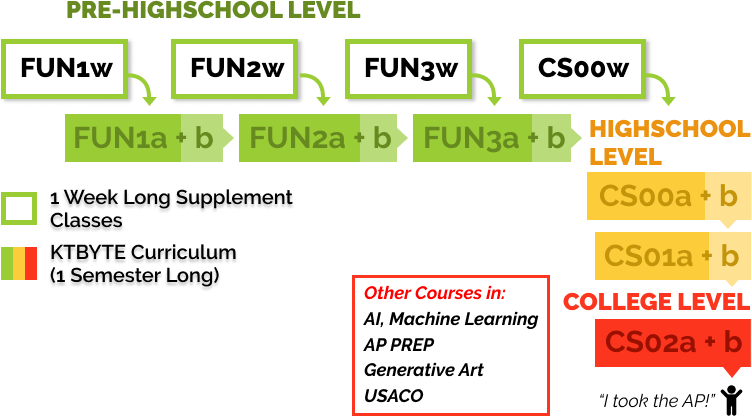 [FUN1w] Intro to Coding (Weeklong)
Total beginner? This is the class for you. FUN1a is an introductory course to computer science and coding, using Javablocks. Javablocks is our block-based coding language tailor-made for easy transition into typed Java programming. Students are expected to have little to no experience with code. The main goal of this course is to help young students look at programs through the eyes of the computer, and learn how to code by changing and manipulating information. By the end of this class, students should feel comfortable creating and customizing their own programs. FUN1a students are also going to work on basic computer mechanics and skills, preparing them to advance to through our curriculum.
Prerequisites:
9-12 years old or permission of instructor
Proficiency in arithmetic and basic computer usage
Price: $772 $695/session coupon applied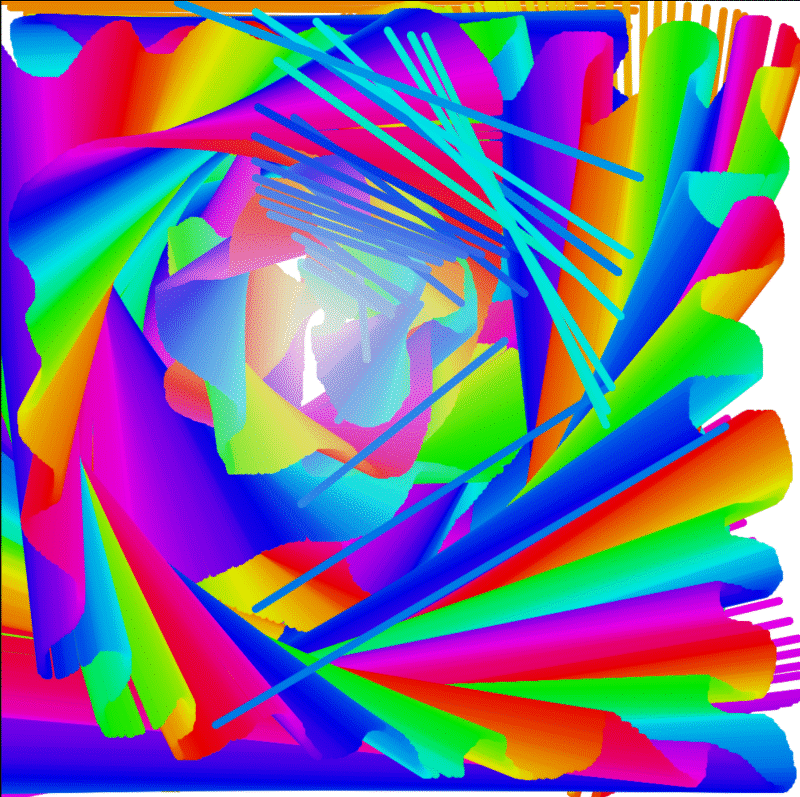 Line art made in JavaBlocks: This project teaches concepts like color effects, mouse position, and using the line function in interesting ways.
[FUN2w] Game Design with JavaBlocks (Weeklong)
This course is an accelerated version of the FUN2a semester-long course. As such, it is suitable for students who have mastered scratch. Students will become exposed to Java through JavaBlocks, a drag-and-drop programming language created by KTBYTE instructors that serves as a transition to Java.
Prerequisites:
5th grade math proficiency
FUN1a / FUN1b, moderate experience in scratch or similar environments
Price: $850 $765/session coupon applied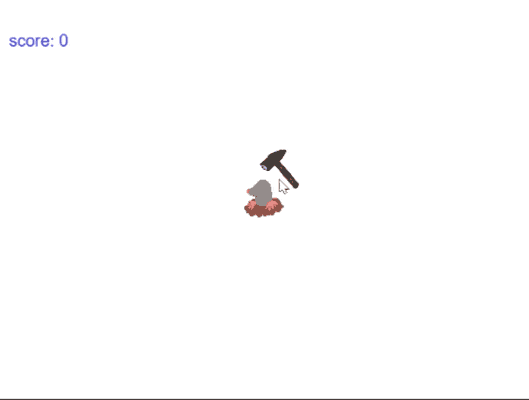 Wack-A-Mole Game made with Javablocks (created by KTBYTE): The goal of the game is to hit the mole with the hammer.
[FUN3w] Game Design with Processing (Weeklong)
Prior to this class, students should have some exposure to building projects in a procedural language (e.g. JavaBlocks, Python, etc). Students should also have advanced math experience and a typing speed of over 20 words per minute. Unlike with Scratch or JavaBlocks, students will get to build low-level components such as sprites, buttons, 'objects' and physics based logic functions. Syntax emphasized in this course includes array-lists, functions, and complex loop constructions. In this week-long course, Students will be working together to construct and complete projects. They will learn how to talk about their code in a way that encourages feed-back and constructive criticism. Additionally, there will be an emphasis on planning and outlining projects before diving into coding. Unlike the CS0x courses, students will not be required to present their project in a formal ceremony, but they will nonetheless upload their Java application to be playable online. Based off of instructor recommendation, students finishing this course may take FUN3a, FUN3b, or CS00a.
Prerequisites:
Familiarity in some programming language (Scratch, Processing, etc)
Price: $889 $801/session coupon applied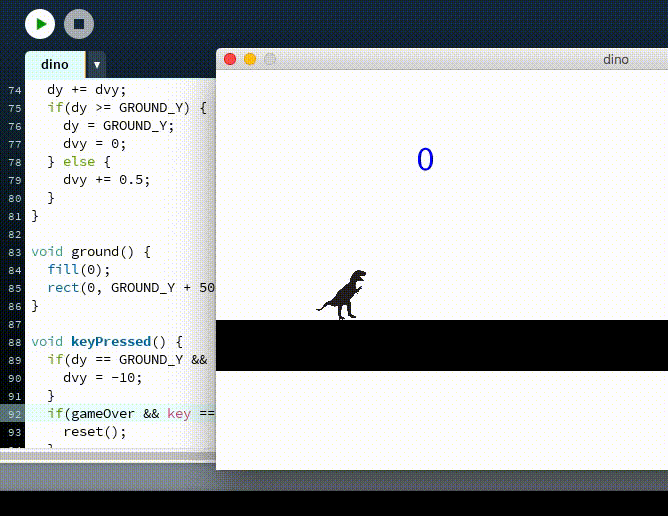 Dino Jump created in Processing: The dino needs to jump past the cactuses to win points. The collision detection in the game is typed manually rather than have it provided in Scratch.
[CS00w] Computer Science (Weeklong)
In this version of CS00a, students will cover an entire semester of content in one week. Even though students are not required to have studied Java before, they should have either a bit of programming experience or the maturity to participate in a high school level class. The minimum age for this course is 13, but students and parents should be aware that this is much faster than our previous fundamentals courses. Students must be able to apply conceptual understanding shortly after learning the material, and students will have 2.5 days to cover the entire Java language from variables to classes. The last 2.5 days consist of independent project time, and the students will present their final projects as part of a formal presentation for students and parents on Friday at 3:30pm. An awards ceremony takes place afterwards, with judging notes and prizes. Based off of instructor recommendation, students finishing this course may take CS00a or CS00b.
Prerequisites:
14+ years old or permission of instructor
Familiarity with a high-level programming language (Java, Python, C++, etc), or permission of instructor.
Price: $966 $870/session coupon applied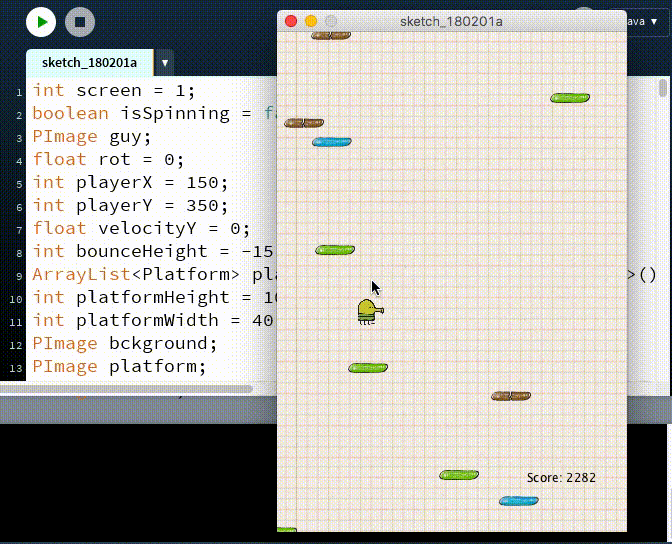 Doodle Jump: The goal of the game is to keep on the moving platforms, and not fall off the screen. There are timer for the platforms that dictates its' movement, speed, and direction.
[RS11w] Smart Things Program (Weeklong)
Want to learn a very powerful hardware and a very popular software simultaneously? Want to sense the world by what you create, control the world by you and what you create, and know the surroundings at anytime from anywhere? Here it comes! KTBYTE Smart Things Program.

In RS11, the students will learn the basics of a very powerful and popular single-board computer – Raspberry Pi. We will also introduce you the basics of Python (a great place to start Python!). We will teach you a variety of sensors, a variety of actuators, and help you to connect them and control them using Raspberry Pi.
Required Hardware:
a Raspberry Pi kit and accessories (~$100)
Price: $750 $675/session coupon applied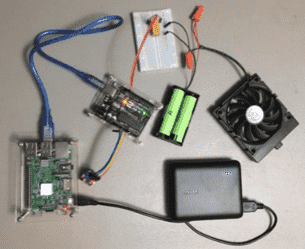 Call me to enroll my child: